How did it all start?   About WINWIDE's Founder and Inititator of the ATT Concept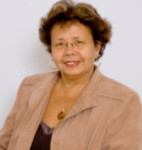 Sandra Winifred Fransz, founder of  WINWIDE and initiator of the AllTonesTables concept has worked in the Gas & Oil Industry for more than 25 years as Management Assistant. She has lived and worked in France, Spain and Germany. In Germany Sandra was sent out and worked as an expat.
After finishing her Counselling & Coaching study  in 2007 she worked in this profession and specialises in integration with focus into new work environments, life cycles  and a multicultural society. During her internship, Sandra has coached and counselled various higher educated migrant women with their integration in the Netherlands. During the coaching trajects Sandra has worked with her coachees, on the obstacles they have encountered during the integration. such as:
there was no place to excercise their Dutch language
there was no place where they could meet Dutch ladies
In close cooperation with these women Sandra has worked out the ATT initiative to an original concept with an unique cooperation formula.
WINWIDE's method is based on the humanistic approach of Carl R. Rogers, an American  psychologist and founder of counselling. In his philosophy  Rogers believed that each human being is unique. He put people holistically in the centre with emphasis on the positive nature of each individual. WINWIDE is, like Rogers, convinced people, being creatures of nature, have the desire and potential to grow. WINWIDE in her ATT method and projects facilitates, inspire and stimulate this desire.